Sagan, Cancellera, Nibali and Gerrans all return to compete in Milan San Remo this weekend and will all want be one of the first over the Poggio to be in with a chance of winning the years opening monument. But the Like of Haussler, Goss and Cavendish will want to get involved.
The race that breaks the rules. The first monument of the year and a sign that one day racing is finally truly  under way. At 297km long this race needed a special exception from maximum distance rules by the UCI, this is a hard day in the saddle. But it is for the most part a relatively flat course, the poggie presents a short but steep climb near the end of the finish and last year saw it let 3 go ahead of main group, the descent is not straight forward but their is a flat run in for the finish.
This race involved a good sprint at the finish but getting their and ensuring your well placed on the final climb and in the right spot for the sprint is key. Last year Gerrans went with Nibali on the main move on the climb of the Poggi, Cancellera ever the positive, let them ride his wheel to the finish and was out done in the sprint. Sagan beat the rest of the field for his 4th place. Cancellera ended with two seconds in a row. Past experiences tell us those who racing Italy last week rather than France will come out the better for it.
Forecasters are calling for a high of 5 degrees Celcius and snow on Sunday in Milan. Sanremo will not be much better, climbing to 10 degrees, but raining. This could be the first battle with mother nature in the Milano-Sanremo since Claudio Chiappucci won in 1991. Wind will play a part as a headwind for last run in will but encourage a sprint finish. But then again wet roads may cause a crash or allow a brave sole get away on the descent of the poggio.
Heinrich Haussler a former runner up to Cavendish in 2009 a race he really should have won is confident he has the best chance since that this weekend "The weather is going to be perfect for me and shit for a lot of other guys. I think we'll see a small group get to the finish."  Cancellera has vowed not to be used like last year and that maybe the focus is now on Sagan "I wouldn't pull if we got away. It all depends who is in the group but I don't think I'll take riders to the finish like I did last year. No."
Cavendish a past winner now reckons this isn't a race he can target, Cavendish explained that the evolution of the race in the years since the climb of Le Manie was introduced in 2008 means that the odds are now stacked against the pure sprinters. He has talked of Sagan being the one to lose the race and his OPQS team will be looking to play one of its many strong cards. And even the last 10kms can be difficult, with a 4km climb of the Poggio then 3km down and the flat 3km run in were the group failed to make the catch last season. A lot like a Grand National you wont win it in the first half of the race but you can lose it.
The route: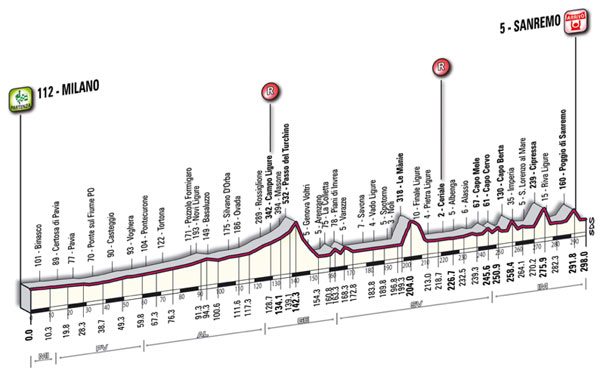 A flat intro but plenty bumps in between to sap the legs on what is the longest day in the saddle in the cycling calendar. Those suffering at the Passo del Turchino are destined for a hard day, add in the likely snow and rain and we may see a very select group arrive in San Remo. Watch for hard men who have proven results in poor conditions.
Overall Race Winner:
Cancellera, Sagan and Chavanel can all play a part in the 104th Milan SanRemo
Peter Sagan  6/4 various – Still going at about 2.8 on betfair he has always traded shorter in these races and can be considered for trading purposes. He had been quoted as high as 9/2 a few weeks ago but winnings both a sprint and a hilly stage in tirreno has truely put him in the hot seat. A 2nd to Moser in Bianche in which he was able to create a gap to 3rd showed how strong this kid is. He was 4th here last year winning the sprint of the bunch, but hes wiser and stronger now, and very seldom does he miss the move. Add to that a road win in italy, and two stages of Oman and you have the form man of cycling
Add in the support of the young Moser and a capable one day unit that is focused on getting him safely to the end of the race and its easy to see why hes so hottly fancied for this.
Mark Cavendish 10/1 various – The fastest man in cycling and now much better supported than he had been at sky. However hes not been positive in the build up and I would agree that their is a big task for him to not just overcome Sagan, but also the route and conditions that demand some digging in on the climbs. Also his team has plenty other options and they wont just be relying on Cavendish in a sprint finish.
Matt Goss 14/1 various – A thougher rider than cavendish but has always played second fiddle to him in terms of speed, but hes a smarter racer but up and down pattern of form this season would be a concern. He was 15th last year unable to stay with the elite bunch sprint Sagan won. His 2013 has not been that great so far,  But he did managed 3 seconds and finally took a stage win in Tirreno in the wet stage showing he can fight it out in the conditions.
F.Cancellera 16/1 stanjames – Once winner and second for the last two years, Cancellera comes into this race in an odd situation, without a win on the season so far. Its been a weak season so far by his high standards, he does have a 4th from Bianche which shows he was in good order all same but hard see how he could beat Sagan, but expect him do better than the sprinters.
V.Nibali 25/1 various – Last year he got himself on the podium by getting himself into the killer move, he lacks the sprint thou and that may hold him back from ever taking this event, but theirs no doubt he can stick with a move on the Poggio with his solid descending skills coming into play.
F.Pozzato 25/1 various –  6th here last year in what was considered a good season for him. He has no moved to Lampre and his results so far have been decent for a rider who has often has temperament issues.  He has had plenty poor runs showing he doesnt like to race for 2nd. And this year won a small on day race in italy, and was winner of the sprint in the ROma Maxima before finding out hed been sprinting for second.
P.Gilbert 25/1 various – The BMC strong man has been denying links to using cortisone to enhance his performance while a member of the lotto team. This may prove a slight distraction for the belgium. This course does not really suit his strengths and he came in well down in 87th last year even in his dream year in 2011 he could only come 3rd, winning Bianche before it and the treble of Amstel, Liege and Fleche after. For those reasons I would not be looking at Gilbert as a winner of this. Gilbert will try on Sunday to become the first rider to wear the world champion's jersey to victory in Sanremo since Giuseppe Saronni in 1983 but his descending is not strong enough in my view.
Possible others:
T.Hushovd (33/1) signs that things might be clicking for him, as he finally won this season after a long drought. He has two thirds in this race dating back a few years now. He was involved in the business end of stages again last week and may have his say in this game, he also finished in the top 10 of the stage from hell in tirrreno mighty impressive. Roelandts was also in that group.  Boassen Hagen (33/1) what seems skys main card and also fits the profile of the new breed of winners for this race as he has a good sprint but also can get over the climbs. His 25th last year can be improved on now as focus was on cavendish last year for sky.  Thomas (40/1) will be skys other card to play, he had a strong showing down under and his strength is in the one day races if he copes with the extreme distance.  S.Chavanel (50/1) put himself into the talk with the sprint win in Paris Nice, conditions are now issue for what could well be Quicksteps main card to play. Haussler (50/1) has talked alot of positives and he has shown before he can cope with adverse weather. Hes done well before here and the renewed focus he has shown with IAMhas been encouraging.  Roelandts (100/1) could be worth watch he loves the hard weather and seems be in good shape this season.
Outright bets:
Haussler dreams of a win in San Remo
 2pts Peter Sagan 2.9betfair (tweet me if you want know more about signing up to use betfair) the bookies go just 6/4 exhange offers much higher.
.1pts Roelandts 100/1 888sport, Bluesquare
.25pts H.Haussler 50/1 various
.25pts S.Chavanel 40/1 888sport
Main Matchbets:
5pts bOassen Hagen to beat Degenkolb 8/15 betvictor
Boassen Hagen handles the poor weather well and is suited to this profile anyway.
4pts Cancellera to beat Pozzatto 8/11 ladbrokes
Pozzatto is talked up but hes bit all or nothing this season not keen to get involved if he can not win. The poor weather will not suit him either.
3pts haussler to beat Gerrans 8/11 paddys
Last years winner was much stronger than he comes in this season. Haussler a 2nd a few years back is talking himself up and could play a bit part in the race.
4pts Amador to beat Izagirre (1.75pinnacle)
Amador proved himself a hard man in tirreno coming home near main men in terrible conditions I do not see Izagirre doing the same.
3pts Van Avermaet to beat Impey 4/5 sportingbet
3pts Van Avermaet to beat Paolini evens paddys
Van Avermaet wont win he neither has the power to get away on descent or a quick enough sprint but hes hard as nails and the conditions mean he will be their at he business end.
3pt Ciolek to beat Bennati 17/20 sportingbet
CIolek is back to something like his best this season with his new team really helping his form. Bennati is not the thoughes and I can not see him digging in.
3ptT.Hushovd to beat T.Farrar 1.55 pinnnacle
Other possibles:
2pts Gilbert to beat Pozzato 13/10 bet365 (2.47p)
1ptT.Hushovd to beat T.Farrar 9/20 bet365 (1.44p)
2pts Boassen Hagen to beat Bonnen 4/6 ladbrokes
1pt Cavendish to beat Greipel 11/10 bet365, 23/20 sportingbet , (2.34 pinnacle)
1pt Haussler to beat Ciolek 1.95 pinnacle
1pt Haussler to beat ROjas Gil  8/11 ladbrokes
1pt Roelandst to beat  Impey 19/50 (1.45 pinnacle)
2pts Roelandts to beat Santabrogio  10/11 betvictor
1pt Visconti to beat Santambrogio 13/10 bet365 (2.57p)
1pt Bozic to beat ROjas Gil 7/4 bet365 (2.9p)
1pt Boeckmans to beat Rojas Gil 17/10 sportingbet
1pt G.Thomas to beat S.Gerrans 1/2 bet365
1pt Thomas to beat Nocentini 17/20 sportingbet
1pt Nizzolo to beat Demare 19/20 sportingbet
1pt Van Avermaet to  Ponzi 13/20  bet365 (1.67 pinancle)
1pt Reda to beat Breschel  11/10 sportingbet
1pt Boeckmans to beat Renshaw  evens bet365 (2.12 pinnacle)
1pt Kristoff to beat Farrar 6/4 bet365 (2.58p)
2pts ciolek to beat pettachi 8/13 paddys
1pts offredo to beat Gerran 19/20 sportingbet
2pts Gatto to beat Paolini  11/10 ladbrokes
2pts S.Chavanel to beat Lastras 8/15 ladbrokes
Other Interests: