Johnny Manziel Draft
Texas A&M quarterback Johnny Manziel has decided to forgo his final two years of collegiate eligibility and will enter the 2014 NFL draft.Manziel later confirmed the news inan interview with Bruce Feldman of CBS Sports
"After long discussions with my family, friends, teammates, and coaches, I have decided to make myself available for the 2014 NFL Draft," Manziel said. "The decision was such a tough one for me because of how much I wanted to go back be with all those guys that I love playing with, and to work with Coach (Kevin) Sumlin and Coach (Jake Spavital) Spav and be part of a program that's continuing to grow. But I felt like this is what's best for me now.

"I feel very relieved. It's a weight off my shoulders. I'm ready to become a professional and dedicate myself to making my dream a reality of becoming the best quarterback I can be."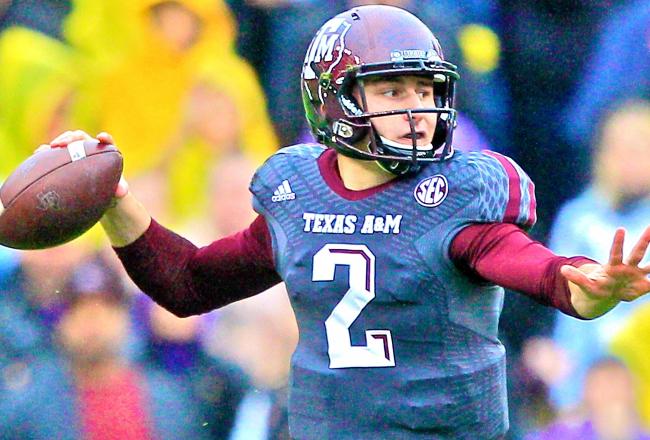 Manziel also gave a special message to Texas A&M fans, via TexAgs.com.
The unsurprising choice comes after the dual-threat quarterback's second straight successful season with the Aggies. He recorded over 40 total touchdowns both years and made strides as a passer in his sophomore campaign (4,114 yards, 69.9 completion percentage), which was exactly what NFL scouts were watching for.
Quite simply, there was nothing left for him to prove in college. He won the Heisman Trophy as a freshman and was a finalist again in his second year, carving up opposing defenses with relative ease every step of the way.
Manziel joins fellow teammate Mike Evans in declaring for the NFL draft
Now that Manziel is NFL bound, the debate about whether he's going to develop into a highly successful professional quarterback is set to heat up.
There will probably be a lot of debate in front offices around the league between now and draft day about whether Manziel will succeed. Great results in college, even at a Heisman Trophy level, don't guarantee success in the NFL.
The one thing working to Manziel's advantage is that he's a more refined passer than Tim Tebow, who had no trouble conquering the college game but never quite established himself in the NFL.
Being able to stand tall in the pocket and deliver strikes to wide receivers is essential in the NFL. Although Manziel still has work to do in terms of reading defenses and going through his progressions, he doesn't need to totally rebuild his mechanics as was the case with Tebow.
Even though there has been a revolution of quarterbacks who can make key plays with their legs, led by Cam Newton, Colin Kaepernick and Andrew Luck, the position is still based on making plays through the air first and foremost.
Exactly how efficient a team thinks Manziel can be in that area will determine how early his name gets called on draft day. Of course, all it takes is one team to fall in love with his wide-ranging skills to select him inside the top five.